I am excited to announce my 2nd Annual
Handmade Christmas Series
3 weeks of Handmade Christmas Gift ideas and tutorials
Believe me, there will be lots and lots of ideas and tutorials all combined into one area.
You won't want to miss it!
On top of great handmade gift ideas there will also be tons of
GIVEAWAYS
We all love giveaways right?
Right in time for Christmas too.
Start spreading the word and marking your calendars.
Feel free to grab a button: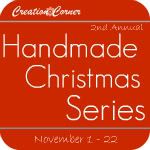 If you are interested in being one of the giveaways please email me at mycreationcorner (at) gmail (dot) com.
I am looking for specific types of giveaways and you will be subject to fit my blog content.
Please put "Giveaway" in the subject line of your email.